项目概况
Project Overview
杭州钱塘湾未来总部基地位于杭州市钱江世纪城核心区块,北邻2022年第19届亚运会亚运村,南靠杭州国际博览中心(2016年G20峰会主会场)。未来,基地将集聚国内外龙头企业、国际组织机构总部、未来产业领域"独角兽"企业总部等,并通过对地下深度、地上高度、产出密度、开发强度的全方位构建,打造全球总部创新地和湾区活力未来城。
The Hangzhou Qiantang Bay Future Headquarters Base (QBFHB) is located in the core block of Qianjiang Century City in Hangzhou, adjacent to Asian Games Village of the 19th Asian Games in 2022 in the north and Hangzhou International Expo Center (main venue of G20 summit 2016) in the south. In the future, the base will gather leading enterprises, headquarters of international organizations, and headquarters of "unicorn" enterprises both in China and around the world. Through the planning of underground, above-ground, output density and development intensity, it will create an innovative place for the global headquarters and a dynamic future-oriented urban area.
为充分论证钱塘湾未来总部基地在杭州进入拥江发展战略背景下的产业策划方向、总体发展规模、建设总量、城市功能、城市空间形态塑造等,特举办此次城市设计国际竞赛。本次城市设计成果将择优充分吸纳入钱塘湾未来总部基地的控规调整。
In order to fully demonstrate the industrial planning direction, overall development and construction plan, urban function and urban spatial form of QBFHB under the background of Hangzhou's development strategy to "Develop alongside Qiantang River", this international urban design competition is hereby held. The results of this urban design will be fully incorporated into the regulatory adjustment of QBFHB in the future.
此次竞赛面向全球设计团队开放,希望设计团队在理解长三角世界级城镇群的定位,理解杭州得天独厚的城市地理景观、人文山水,理解总部经济的基础上,提出钱塘湾未来总部基地的分工与产业定位,将多种层级、功能的总部纳入考虑范畴,发挥杭州的产业优势,打造职住融合的综合片区。
The competition is open to design teams globally. Design team shall fully study and understand the location of the world-class urban agglomerations of Yangtze River Delta, and Hangzhou's unique geographical and cultural landscape, as well as headquarters economy. In this context, design team is expected to put forward industry positioning of QBFHB, taking into account a variety of enterprise types, giving full play to the advantages of industry in Hangzhou, creating comprehensive live-work area.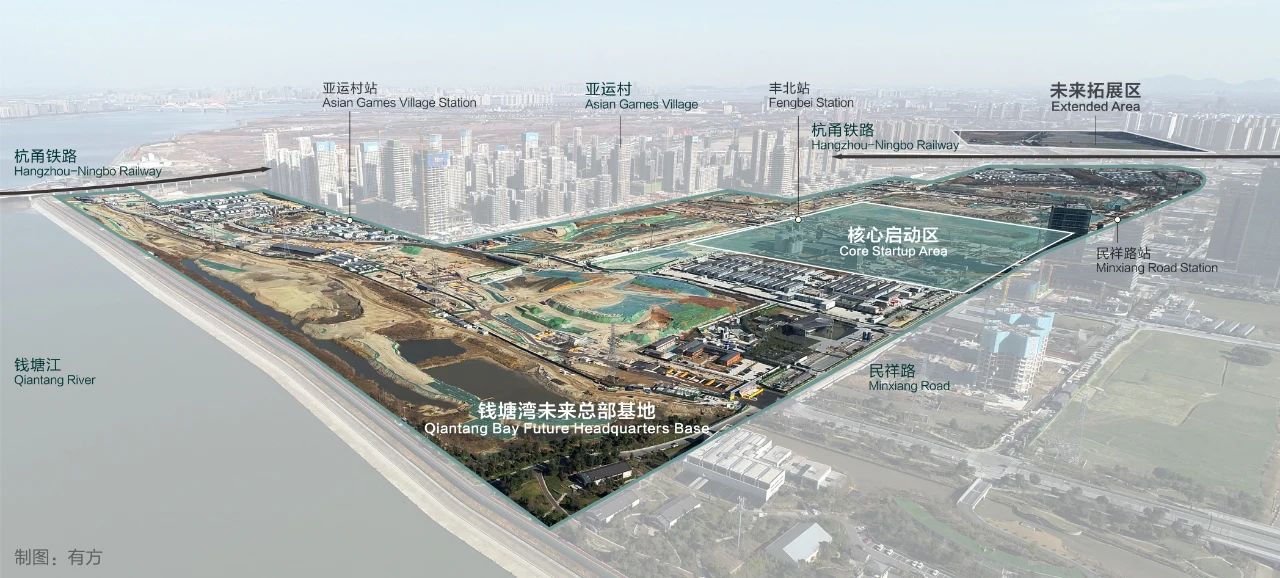 钱塘湾未来总部基地范围
摄影:奥观建筑视觉,制图:有方
Qiantang Bay Future Headquarters Base Site